LinearPlus
LinearPlus is targeted specifically at the needs of organisations handling linear projects (e.g. tunnels, railways, pipelines) where access constraints and the physical location of work add extra complexity to the planning process. In this environment, the time chainage diagram provides key additional information not present in the traditional Gantt view. The product can operate in two modes:
Edit Inhibited is ideal for environments where data is imported from an external project management tool. No alterations to activity schedule or location values are permitted, ensuring that any charts produced within LinearPlus are guaranteed to reflect the contents of the originating system
Normal Operation permits users to modify all the properties of any type of object within LinearPlus, allowing projects to be developed within the system if desired.
The latest version of the product introduces a raft of new features including higher quality data visualisation, greater control over the appearance of the location data, and the ability to work with Gantt charts as well as time chainage charts. In addition, import of data from all versions of Primavera P6 R8.0 and R8.1 is supported.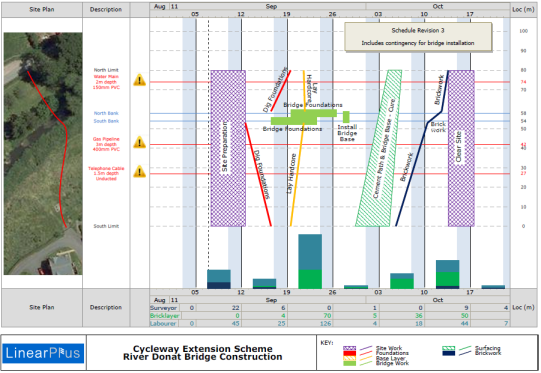 Benefits
Significantly reduced time to produce chainage diagrams compared to manual or spreadsheet based methods
Wizard driven data import and layout allows rapid production of chainage diagrams from plans held in Microsoft Project, Primavera Project Planner (P3), Primavera (P5, P6) and many other tools.
Guaranteed correspondence with planning data.
Fully interactive diagrams permit live "what-if" modelling using chainage data and export of changes back into a planning system
Photos, CAD data or other graphics can be imported to provide mapping information alongside the diagrams.