If you're not sure which P6 version is for you, why not check out our FAQ page or this feature comparison chart?
Primavera P6 Professional Project Management (P6 PPM)
Oracle's Primavera P6 PPM gives today's project managers and schedulers the one thing they value most: control. Primavera P6 PPM the recognized standard for high-performance project management software, is designed to handle large-scale, highly sophisticated and multifaceted projects. It can be used to organize projects up to 100,000 activities, and it provides unlimited resources and an unlimited number of target plans. Massive data requires sophisticated, yet highly flexible organization tools to provide you a multitude of ways to organize, filter and sort activities, projects, and resources.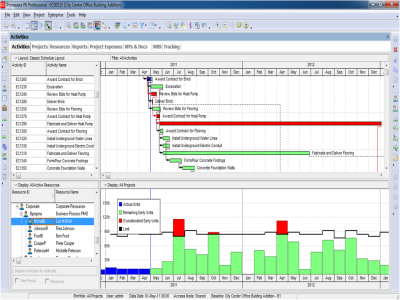 Benefits
Balance demand versus availability
Plan, schedule, and control simple or complex projects
Allocate resources and track progress
Monitor and visualise project performance: planned versus actual
Conduct "What-if" analysis and review alternatives
Looking for cost-effective advanced graphical reporting for P6? Take a look at QEI Management Reporting