Primavera P3 Project Planner
Sadly Primavera P3 Project Planner was retired at the end of 2010, and cannot even be made to run on recent versions of Microsoft Windows. Your best bets to replace P3 are either Primavera Contractor (if you are working with projects containing fewer than 2000 activities) or Primavera P6 Professional Project Management.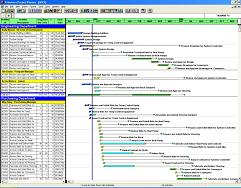 Primavera SureTrak
The nearest replacement for this entry level planning tool is Primavera Contractor.
Primavera Expedition
The project change management functionality originally in Expedition is now available in Primavera Contract Management.
Primavera P3E, P3E/C
These are just old names for earlier versions of what is now Primavera P6 Enterprise Project Portfolio Management.
Primavera TeamPlay
This was a version of P3E aimed at the IT sector; depending on your requirements you may find Primavera P6 or Primavera Instantis an appropriate replacement.